Last Updated on July 26, 2023 by Ellen Christian
Check out these winter travel outfits. Traveling in winter can be a real drag. It's cold, there is snow everywhere and your clothes get wet from the rain or melted snow.
Posts may be sponsored. This post contains affiliate links, which means I will make a commission at no extra cost to you should you click through and make a purchase. As an Amazon Associate I earn from qualifying purchases.
Winter Travel Outfits for Ladies
We all know that traveling during this time of year can be tricky, but you don't have to let it ruin your trip! By packing the right outfits for travel in winter, you'll be able to stay warm and comfortable no matter where you're going.
This guide will help you pick out some stylish outfits for travel in winter so that no matter how far away from home or how long your trip is, you'll still look great while staying warm and dry!
How should I dress for winter travel?
Since winter brings in some pretty harsh weather, you'll have to dress for the cold. This holds true for both plane and car travel.
However, just because you're dressing for the cold doesn't mean that you should go overboard when packing your clothes. You will still want to look stylish!
Since it is winter, layering is very important when picking out outfits for travel in winter. This means you'll want to wear many thin layers rather than a few thick ones.
Layers are key in dressing for winter because what will keep you warm is the air between your clothes, not the clothes themselves.
When your clothes are layered, they trap air in between them, which keeps you warm. The best travel outfits will let you adjust your layers as needed.
On top of layers, the outer layer of the outfit is extremely important. You'll want to ensure it's waterproof or water-resistant, at least! If you wear a good quality winter coat and pants, then even snow won't get through easily.
What about shoes?
Wearing the right kind of shoes for winter travel is extremely important. The last thing you want, when it's snowing outside, is to put on high heels and slip all over the place! That being said, there are ways around this.
For starters, if you have a pair of stylish boots, wear them! You can wear these boots in the snow with thick socks and still look good.
If you don't have any winter boots, another option is to wear rain boots when it's snowing. These are water-resistant, so no matter how much snow falls, your feet will stay dry. If there isn't any snow where you're going, you can always wear regular shoes with a thick pair of socks.
How to pack snow boots
If you're going somewhere where there could be snow, pack a pair of waterproof boots. To pack them safely, you should pack them close to their full size (without wearing them) and then stuff them with socks, leggings, or anything else you can roll easily.
What about accessories?
Winter travel calls for hats, scarves, and gloves, as well as sunglasses to protect your eyes from the snow. A good quality winter coat will keep you warm around your neck and face. Make sure that whatever scarf you choose is long enough to cover your neck and face!
Don't forget to pack your favorite jewelry.
For the Airport
While traveling during the winter you'll want to make sure you get to your flight on time. Make sure your outfit is comfortable enough that it doesn't restrict or impede your movement but stylish enough to make you feel confident and positive about your appearance.
It's also helpful if your style is somewhat similar to the style of your destination, so stick to a more conservative look if you're going somewhere more conservative and vice versa.
Remember that you'll likely be dealing with colder weather when you get to your destination, especially if it's in a northern location, so make sure that whatever clothes you wear for travel in winter can go from the plane to the car easily.
When you get where you're going, or if it's somewhere cold when you leave, try getting a travel coat, which is lightweight and easy to pack away when not in use. Also, ensure your scarves can double as a blanket on the plane!
What should I wear on a plane in cold weather?
The best winter travel outfit for flying will make you feel comfortable in your seat and stylish enough not to feel out of place.
Bring layers! Dress in tights, leggings, or warm pants under your dress or skirt. This will ensure you are comfortable during the flight and remain warm without feeling too restricted.
If possible, pack a cardigan layered over your outfit, so it's easy to remove should the plane get too cold. You can also pack some warm socks and slip those on right before you get on the plane to keep your feet nice and toasty.
Once you're on the plane, stay as comfortable as possible. Make sure that the clothes you wear for travel in winter aren't too tight or constricting, which can make it difficult, if not impossible, to get up and move around.
Dresses for Travel in Winter
A winter travel outfit doesn't have to be too difficult to put together if you stick with a simple and classy dress. A winter travel dress that is loose and comfortable will keep you warm while keeping your style intact throughout the trip.
You may want to consider bringing a sweater just in case, but you don't want the sweater to be too tight, or it might make it difficult for you to move around.
A nice dress is perfect for traveling during the winter. All you need are some tights and warm boots, plus a simple cardigan if you get cold quickly. If your destination is somewhere more conservative, make sure to dress more modestly.
Winter Road Trip Outfits for Women
Road trips are fun during the summertime but can be pretty uncomfortable if you're not prepared for them during the winter months. Again, dress in many layers so that you'll be able to regulate your temperature easily by taking layers off or putting more back on.
Don't wear anything too tight! If your travel outfits are too constricting, it can get pretty uncomfortable after sitting in one position for too long. Wear clothes that are comfortable.
Wear comfortable shoes that will keep your feet warm but that are easy to take off should you want or need to get out of the car. Try to wear something waterproof so no matter how much snow and wetness there is, you don't have to worry about getting soaked.
Winter Travel Clothes for Women
When traveling during the winter, you'll want to dress in layers. Layer thin tights or leggings under your dress or skirt so you are comfortable and warmer without being too restricted. Then, put on a nice long sweater over everything else to keep out the cold!
For boots, make sure to pick ones that are comfortable and waterproof. Boots with a low heel will be easier to walk in during the trip, but high heels can work too if you're willing to sacrifice some comfort for style.
If winter travel clothes aren't an option for you, consider packing jeans or denim pants, thick tights or leggings, thick socks, flats, and a nice thick sweater. This combo will work for many destinations in the wintertime!
Best Travel Dresses for Winter
If you're not too keen on wearing tights or leggings under your dress, a nice winter travel outfit can still be easy to put together. Pick a pretty dress or maxi skirt that is made of a lightweight fabric and layering it with a nice sweater will keep you warm and stylish at the same time!
Make sure that whatever boots you decide to wear are comfortable and waterproof. Boots with a wedge heel will be easier to walk around in compared to high heels, especially if you'll be walking on snow or ice.
If cold weather makes it difficult for you to find suitable clothes for your trip, having some jeans or other pants packed is always a good idea. Jeans will keep you warm during the trip, plus they are easy to rock with a simple t-shirt or blouse. Add some boots and you're set!
Pack whatever is comfortable for you knowing that there are plenty of options out there! You can always wear layers underneath your travel outfit if it's not quite warm enough. The most important thing is that you are comfortable! You don't want to be overly cold or suffer from the heat too much.
Having a few staple items in your winter wardrobe is important for any woman who wants to stay stylish and warm during the cold weather months. Pick out three or four outfits that all work well together so you can mix and match without a problem.
Winter travel must-haves
Here are a few must-haves for winter travel outfits.
Lightweight dress in a solid color that's appropriate for many destinations
Sweater or cardigan to wear over the top of your dress
Tights and leggings to wear under your dress (or jeans if you prefer)
Boots with wedge heels for easy walking on snow and ice. Totally cute with tights!
Purse that's large enough to carry all your essentials and extra layers (like sweaters!) if needed.
Make sure you pack anything else that will be necessary for your trip – coats, scarves, hats – and you're set! Keep yourself warm and comfy while still looking stylish during the winter months by following these tips.
Winter is not an excuse to run out and buy some major winter clothes. Pack what you have in your closet! A nice pair of leggings, a few light sweaters, a good pair of boots with cute socks pulled up high – plenty of things will work for winter travel style without breaking the bank.
More fashion articles
I hope you've enjoyed these travel outfit ideas. You may want to read these.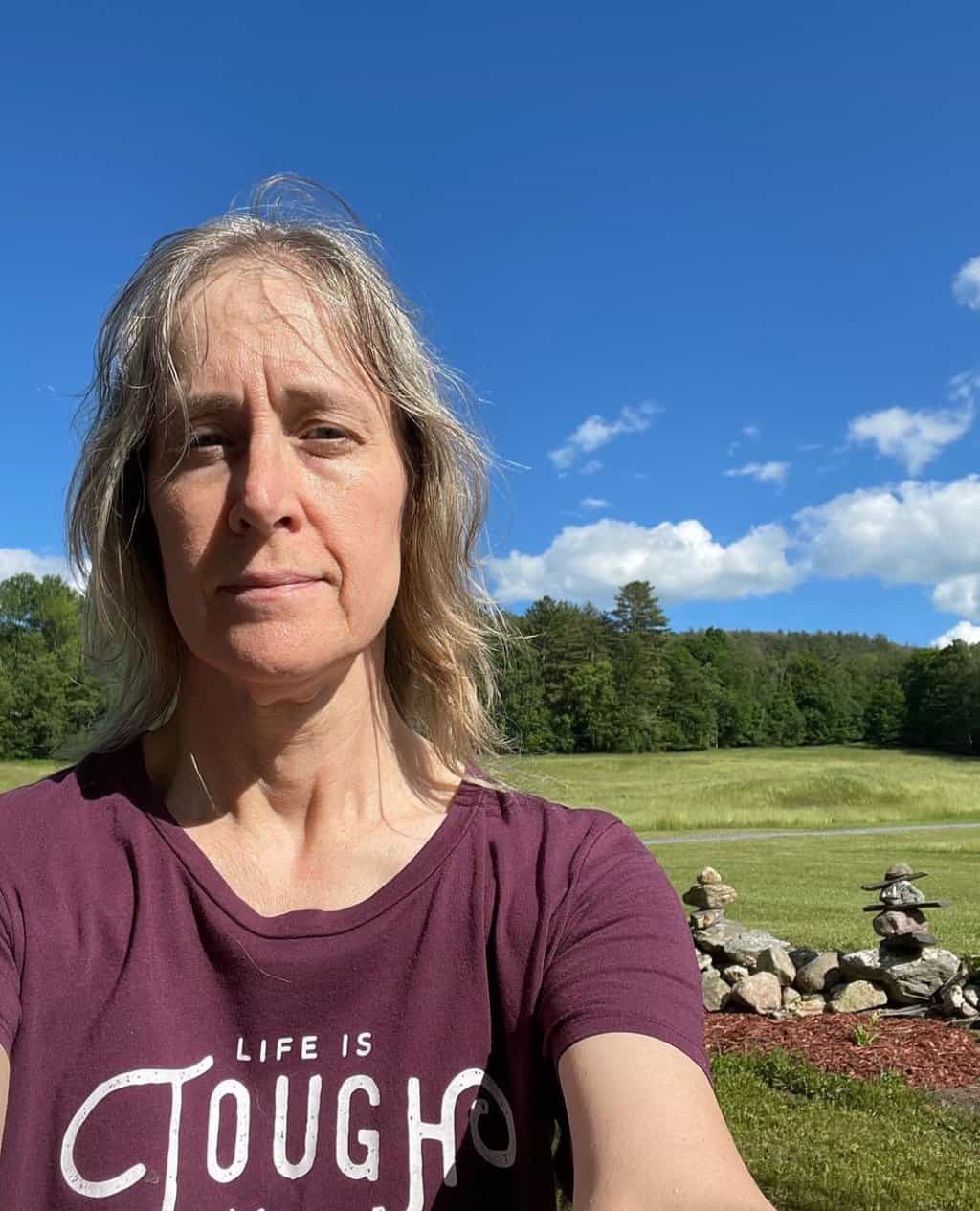 Ellen is a busy mom of a 24-year-old son and 29-year-old daughter. She owns six blogs and is addicted to social media. She believes you can feel beautiful at any age and any size. She shares healthy, realistic beauty and fashion information geared toward women over 40. If you'd like to work together, email info@the-socialites-closet.com to chat.