Last Updated on August 17, 2023 by Ellen Christian
You want to look younger and feel great about your skin, but you don't know where to start. Check out the best essential oils for skin tightening.
Posts may be sponsored. This post contains affiliate links, which means I will make a commission at no extra cost to you should you click through and make a purchase. As an Amazon Associate I earn from qualifying purchases.
Your options seem overwhelming. There are so many products out there promising results that they can't deliver. And it's hard to tell the difference between what works and what doesn't work.
Essential Oils for Skin Tightening
I've done some research for you and I'm going to share with you my top 5 favorite essential oils for tightening your skin naturally! Learn more about what naturally tightens your skin.
As we age our skin loosens and loses its resilience gradually. Using essential oils with a carrier oil as part of your skincare routine can help to combat skin aging. Apply the oils to the areas that require attention such as the neck and the face. Over time, your skin can be more flexible and firm.
What is skin elasticity?
Commercial skin products usually claim to improve skin elasticity and reduce skin aging ingredients. Essential oils may keep your skin youthful longer by slowing aging. Studies indicate that certain oils will help improve a skin's elasticity and skin elasticity.
Which oil is best for tightening skin?
The answer lies in your skin type. Depending on your skin type, certain oils are more beneficial than others. For example, for dry skin, look to frankincense and sandalwood essential oils. They can be used topically or consumed internally. For oily skin types, use grapefruit oil with jojoba oil as a carrier oil. But what oil is the best for tightening skin? Check out my list of essential oils for skin tightening.
Which oils promote collagen?
Different oils provide different benefits. Some are anti-inflammatory, some are oxygenating, and others can help to reduce breakouts.
My top choices to help with collagen are carrot seed, lemon, frankincense, geranium, and neroli essential oils. Remember to use them along with a carrier oil like grapeseed oil or pomegranate oil.
What are the best essential oils for elasticity?
To help improve skin elasticity, try sandalwood or geranium essential oils. Sandalwood improves collagen production which gives you healthier, plumper-looking skin. Geranium also contains anti-inflammatory properties that will aid in the healing of scar tissue on your face.
An essential oil kit like this one will give you a variety of oils to experiment with.
What are free radicals?
Free radicals occur when skin cells don't regenerate and die rapidly. Over time, the skin will show signs of aging. Excessive sun exposure and diet play a role in free radical production.
How to apply essential oils for skin tightening
It's important to note that essential oils are highly concentrated. You need very little in order for them to produce the best results. It only takes a few drops of oil (depending on your skin type) applied with carrier oil blended in to make an elixir for your skin.
Always be sure to add them to a carrier or your own favorite facial cream. Just a few drops of oil should be mixed with 1oz of carrier oil like sweet almond oil to treat your skin twice daily.
What essential oils are best for sensitive skin?
We all know that some essential oils are irritating to the skin, especially if you have sensitive or dry skin. You just have to do a patch test first. I suggest using lavender, chamomile, frankincense, sandalwood, and geranium essential oils.
How long will it take to notice the results?
While some people experience results more quickly, others may need up to 4-6 weeks of treatment before they see the final product. Don't give up too soon! Be consistent with your uses, and you can see amazing results.
Here are my choices for the best essential oils for skin tightening. Try one or two of the listed essential oils to experience the health benefits and to improve dull skin.
Lavender Essential Oil
In fact, lavender oil can improve skin tone, texture by targeting the skin in many different ways. It has antiseptic, antimicrobial, and antibacterial capabilities. The compound strengthens damage caused by free radicals that contribute to aging skin and loss of elasticity.
Researchers find that lavender essential oil in its own right supports the repair of scar areas. It is one of the mildest essential oils so that there's less chance of skin reactions to it. The floral scent is subtle and sweet – perfect for your daily routine.
I really think this is one of the most effective essential oils for loose skin, and skin hydration. An essential oil kit like this one will give you a variety of oils to experiment with.
Neroli Oil
Neroli oils stimulate new cell growth and minimize skin pores. It is used extensively as a component in anti-aging creams and masks. It also aids in restoring damaged tissue and reduces scar tissue growth.
Many women use neroli oil to deal with stretch marks and to promote tighter skin. It has many anti aging properties.
Geranium
Geranium essential oil is one of the best essential oils for tightening the skin. Geranium's an antioxidant helps open pores and remove oils from the skin. You can also use Geraniumoil on more sensitive or rough areas.
In a study, the researchers prove that geranium oil contains sun protection qualities. It prevents the skin from harmful rays to help repair cell damage before damage is done. Use this in your favorite oil blend.
Jasmine
Jasmine oil is known for its wonderful aromatherapy effects and amazing scent. It causes extra fluid to flow to your skin where normal flow is limited. More blood – flow means greater nutrients can be absorbed in high-quality skin cells. All of these help to increase the production rate of skin cells.
Frankincense Oil
Frankincense Oil increases skin flexibility and is good to use on the skin close to the eyes to soften skin. It regenerates the cells and replaces the old dead cells with the new ones. It also keeps the skin oxygenated and the more oxygenated the skin becomes, the more elastic.
Mix the oil with any carrier oil of any choice, let's say Olive oil. Just rub it on the face before you go to sleep. Ensure that you don't apply oil without diluting.
Rosehip
Rosehip oil is already used to battle wrinkles and improve elasticity within the skin aging industry. In some studies, rosehip has been shown to dramatically improve the hydration of the eye follicles after use.
The oil comes from pressing wild rose seed, similar to citrus essential oils. It can be used as a carrier oil in conjunction with other essential oils or on its own.
It smells more wood-scented than rose-like but blends well with other oils to produce several kinds of smells in addition to similar types of oils. For a rose oil scent, add it along with rose absolute to help your skin maintain its youthful look.
Myrrh Oil
Myrrh is used to oxygenate tissues and thereby helps skin remain calm. It may also provide relief of chapped skin, broken pores, and wrinkles. It reduces inflammation and redness when used with other carrier oils.
Combine equal parts of myrrh oil, jojoba oil, and olive oil. Gently massage the mixture around your eyes, nose, mouth, and forehead areas for a few minutes every day for a week or so to see the best results.
Patchouli Oil
Patchouli oil contains over 150 compounds that fight the signs of aging. It also strengthens skin to keep it from premature damage due to sun exposure, pollution, and free radicals.
Reduce pore size and control hydration with patchouli oil. Mix a few drops of patchouli oil with any other carrier oils to get the best relaxing effect.
Tea Tree Oil
Tea tree essential oil has anti-inflammatory and antibacterial properties that help control acne breakouts.
Antibacterial and antimicrobial agents can be used to effectively fight bacteria that cause acne breakouts. Mix a few drops of tea tree oil with jojoba or coconut oil for the best results.
An essential oil kit like this one will give you a variety of oils to experiment with.
Rosemary Oil
Rosemary oil is rich in antioxidants and penetrates deep into the skin. Use it with other carrier oils to reduce puffiness under the eyes, dark circles, fine lines, wrinkles, and dry patches.
Mix 2-3 drops of rosemary oil with jojoba or coconut oil for best results. Try making an essential oil blend by mixing it with lemon.
Lemon Oil
Lemon essential oil contains an acidic compound that helps remove dead skin cells. It can also reduce scars and prevent wrinkles from forming.
Mix a few drops of lemon oil with any other carrier oils to gently exfoliate your face, while nourishing skin cells at the same time. This essential oil can also help promote blood circulation.
This is one of the best essential oils to use in warmer weather. I love how well this works for skin tightening and it smells fantastic mixed with geranium essential oil.
Sandalwood Oil
Sandalwood essential oil is a rich source of antioxidants and nourishes the skin to keep it looking younger. Use sandalwood oil with other carrier oils to reduce signs of aging, help acne breakouts, and tighten skin after a few weeks of use.
When it comes to the best essential oil for skin benefits, everyone has their own personal preference. Try making your own essential oil mixture. Just don't mix all the essential oils together at once.
What is the best carrier oil?
You can experiment to see which one works best to tighten loose skin. Remember to use a carrier oil like argan oil or jojoba oil when you apply this to saggy skin to improve fine lines.
To apply it to stretch marks, you may want to use coconut oil or shea butter to improve skin hydration.
An essential oil kit like this one will give you a variety of oils to experiment with.
More essential oil information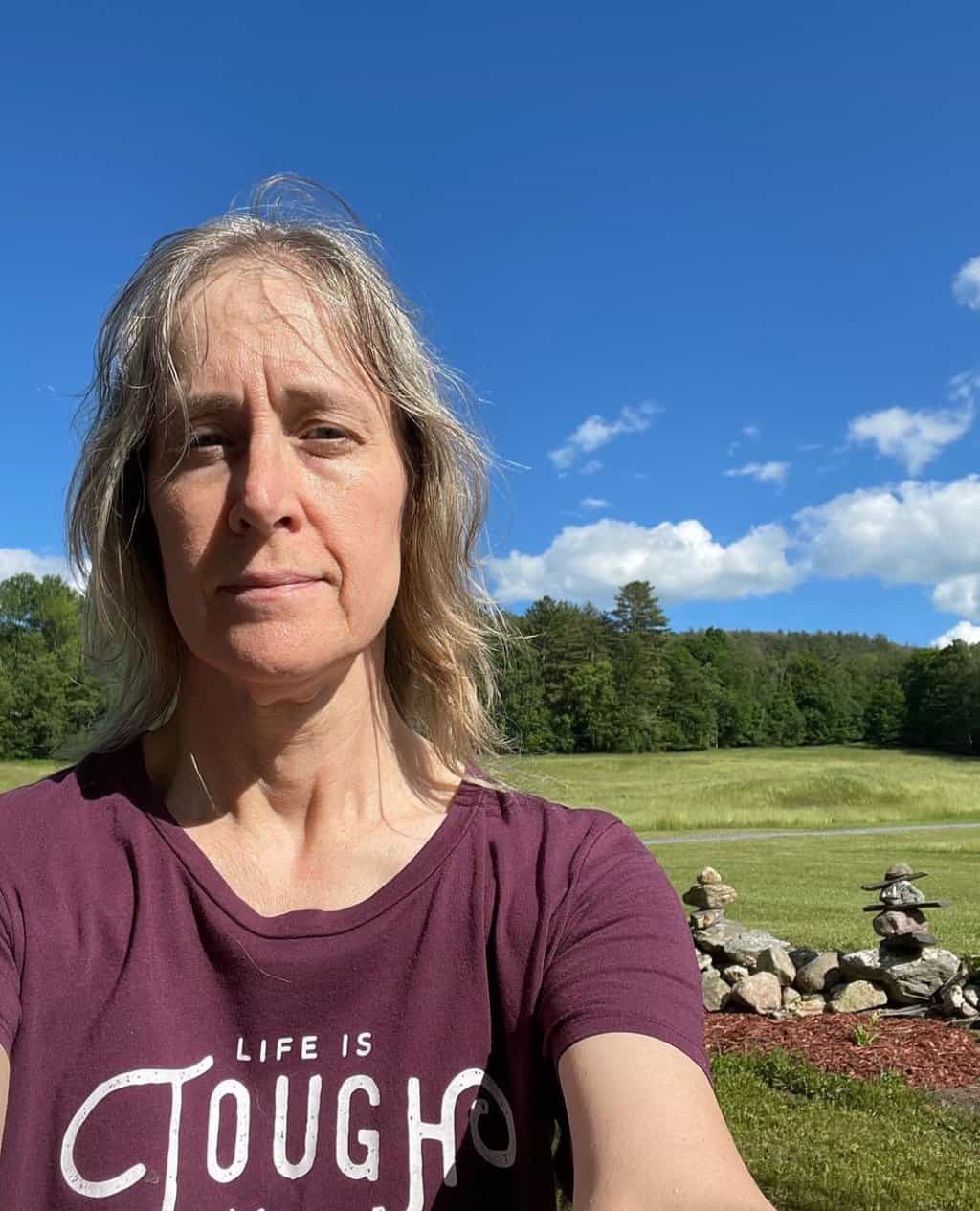 Ellen is a busy mom of a 24-year-old son and 29-year-old daughter. She owns six blogs and is addicted to social media. She believes you can feel beautiful at any age and any size. She shares healthy, realistic beauty and fashion information geared toward women over 40. If you'd like to work together, email info@the-socialites-closet.com to chat.