Last Updated on June 4, 2023 by Ellen Christian
Make your white sneakers sparkle again with these tips on how to remove yellow stains from white shoes before it turns into a permanent marker of dirt and grime!
Posts may be sponsored. This post contains affiliate links, which means I will make a commission at no extra cost to you should you click through and make a purchase. As an Amazon Associate I earn from qualifying purchases.
White shoes are a staple of any outfit, but when one turns yellow it's hard to feel confident about wearing them. Thankfully there is an easy solution!
Remove Yellow Stains from White Shoes
White shoes are the go-to shoe for summer, but yellowing stains can make them look dingy. I love wearing white shoes in the summer, but they end up looking dingy and yellow after a few months.
There are dozens of shoe cleaning products on the market that claim to remove stains from your white shoes, but most of them don't work very well. And some even make things worse!
Are your off white shoes yellow? If so, I've got tips for how to remove yellow stains from white shoes using products you probably already have around your house.
Make your white shoes look new again
The first step is to find out what kind of shoes you're wearing. There are different cleaning methods for different materials.
You won't clean white leather shoes with the same method you use to remove yellow stains from white Vans.
It's also important to add new shoelaces and take a look at the soles of the shoes. No matter how white your shoes are, they won't look good if they are overly worn.
If they are expensive shoes, you can often bring them in to be re-soled. But, if they are relatively inexpensive, the best bet may be to simply get a new pair.
How to remove yellow stains from white Vans
Take a cloth dipped in hydrogen peroxide and scrub the stain to remove it. If this doesn't work quickly, you may need to let it soak for 30 minutes to get stubborn stains out.
You can also try a mixture of baking soda and mild dish liquid. Form a paste in a small bowl. Then, scrub it on using a toothbrush. Allow it to sit for a few minutes and then rinse it off.
Best way to clean white shoes
Here are a few more things that people have tried with some luck.
Vinegar and baking soda paste
If you do opt to use bleach on your white Vans, it's important that you dilute it first bit a bit of warm water and dish soap. Straight bleach can damage the fabric.
Essential white sneakers products
How do you clean white canvas shoes?
You can clean white canvas shoes by using toothpaste to make them look brand-new. Always use a toothbrush when applying the toothpaste to your shoes.
Always follow up by wiping off all the extra toothpaste with a dry cloth before it dries.
This trick works well with shoes that are still white but have small stains or dirt on them. The other way to clean your shoes is by using a sponge and soap or by tossing them in the washing machine.
How to remove yellow bleach stains
Rinse the stain for a few minutes. Then, apply plain white vinegar to the bleach stain. Let it sit for 5 minutes.
Then, rinse it carefully with cold water. Removing yellow bleach stains can be a challenge but this should work.
How to remove yellow stains from white leather shoes
The best way to prevent your white leather shoes from getting stained is to find a way to remove these stains as soon as they start showing up. This is where most people end up having problems because finding the right product can be challenging.
There are various products used to clean white leather shoes from toothpaste to liquid soap or shoe polish. These products work differently and may have different effects on your shoes depending on what you use them with.
For example, some soap-based products (such as dishwashing detergent or liquid hand soap) can damage the leather because they dry out the skin. When this happens, the leather will become more pliable and stretch out of shape when worn—so it's best to avoid these types of products.
The best way to clean white leather shoes is using a proper cleaner that's made specifically for cleaning leather. However, it may seem like this would be harder to find than your typical soap or shoe polish. This is an absolute miracle!
But with all the products available online, it's actually easy to get what you need! If you're wondering how to remove yellow stains from white shoes that are leather, try this leather cleaner first.
Can you bleach white shoes?
You can bleach white fabric shoes but not all materials will react well to bleach. Check the fabric content to be sure. You can also try a color-safe bleach to see if it will help if you aren't sure.
Can you clean shoes with a Magic Eraser?
You can clean most shoes with a Magic Eraser. Check to see how the shoe will react by trying it in a small spot first. Then, just get the Magic Eraser a little bit damp and scrub lightly.
This will work well on most leather and man-made materials. And, it gets scuff marks off the rubber part of your shoes as well. Check out these unusual uses for Magic Eraser.

More fabric care articles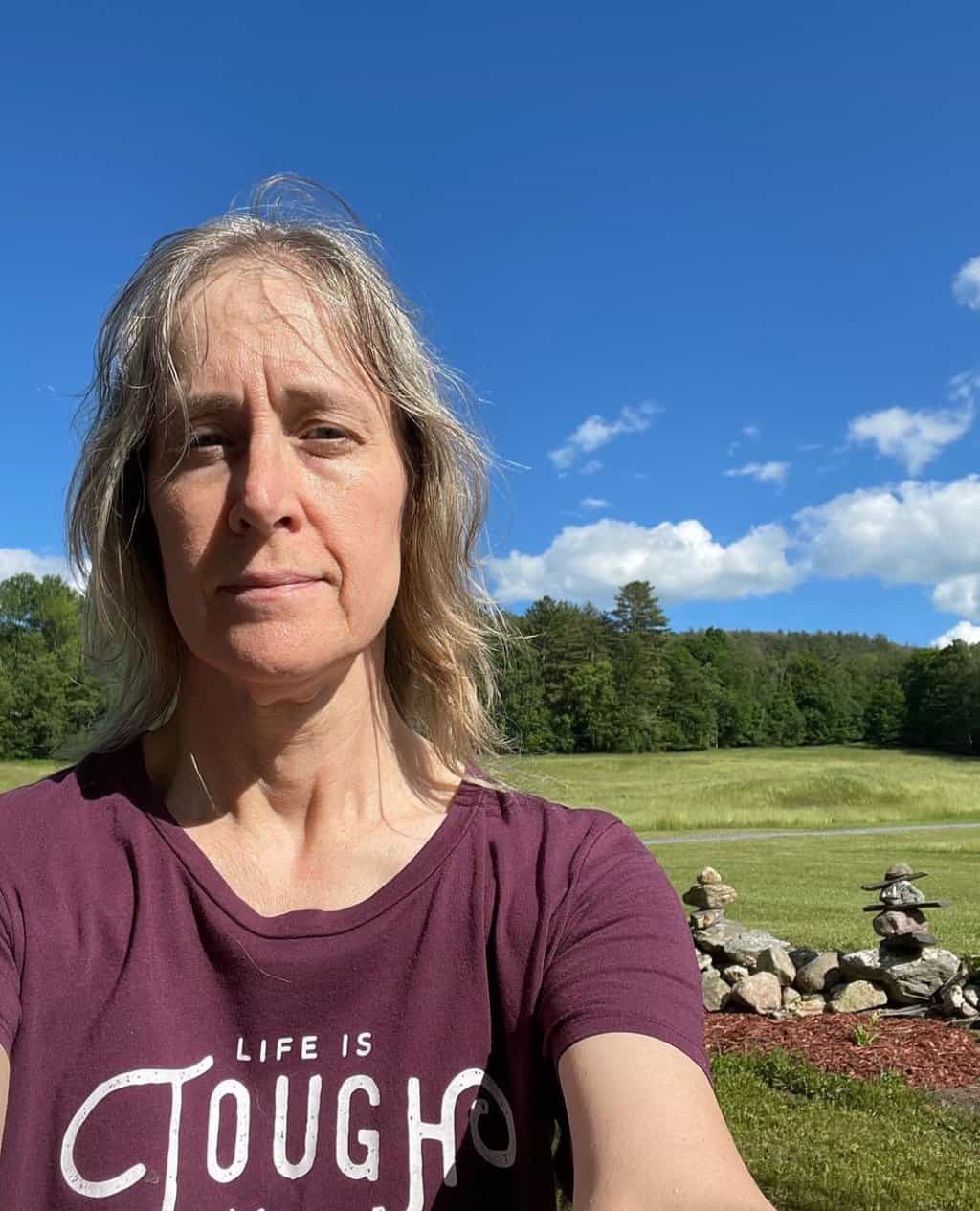 Ellen is a busy mom of a 24-year-old son and 29-year-old daughter. She owns six blogs and is addicted to social media. She believes you can feel beautiful at any age and any size. She shares healthy, realistic beauty and fashion information geared toward women over 40. If you'd like to work together, email info@the-socialites-closet.com to chat.