Last Updated on April 28, 2023 by Ellen Christian
You have a beautiful fur stole, but you're not sure what to wear it with. Check out these ways to wear a stole for a few new ideas to wear your fur wrap.
Posts may be sponsored. This post contains affiliate links, which means I will make a commission at no extra cost to you should you click through and make a purchase. As an Amazon Associate I earn from qualifying purchases.
Ways to Wear a Stole
Fur stoles are so versatile and can be worn in many ways! They can add an elegant touch to your outfit or make a bold statement depending on how you style them. There is no right or wrong way to wear them – the possibilities are endless!
So, where do you wear a stole? You can wear a stole anywhere! Why not style your jeans with a stole. Or, wear your stole as a top or vest along with your favorite belt. The ideas are endless.
There are many ways to wear stoles if you're looking for dressy styles for an evening out. But, you can create a whole new look by adding a stole to your casual dressing outfits.
Here's some inspiration for wearing your fur stole this winter season. There are lots of different ways to tie a stole or fur scarf so don't feel limited by the suggestions I have.
And, remember that you can find faux fur stoles in many stores. So if you don't want to wear real fur, don't feel like you can't add a faux fur stole around your neck for the same look. Check the selection out here.
You may want to add a few different color stoles to your scarf collection. That way you can wear a scarf no matter what color jacket or dress you're wearing.
Use the same loop styles as a scarf
They can be worn similarly to a scarf, but also tied in different ways around the neck. Here are some ideas for wearing stoles as wraps! Cover up with these chic styles.
Wear it over one shoulder
One of the easiest ways to wear your stole is to drape it over one shoulder. This works well with lighter-weight stoles, like mink or sheared beaver. Just the scarf evenly and drape it over your shoulder.
A full-length fur will not drape as nicely and may weigh you down too much. If you do want to go for that cozy look, you can tie a long scarf into a loose knot or tuck the ends inside the front of your coat.
A good rule of thumb is to allow half to fall over the back and the other over the front of your shoulder. You can tuck the loose ends under your belt if you're worried about it slipping off. If it doesn't feel right on one side, try the other shoulder.
Shoulder shrug style
If you find yourself keeping your fur stole out even when you're not wearing it, consider wearing it as a shoulder shrug! This look is sleek and classy and great for daywear or evening wear.
A full-length pelt should be saved for special occasions so that your fur does not get stretched out. Save it as a wrap for a special evening out or a wedding.
This really is the simplest way to wear a stole. I love scarves and they make a very fashionable simple wrap or chic shawl for cooler weather.
Wear a stole as a long scarf
If you want to save your full-length fur for special occasions but still want to wear it, consider wearing it as a scarf! This look is great for daywear or evening wear and works best with shorter pieces that are lighter in weight. A thin strip of fur is perfect for this look. This stole is gorgeous for this tyle.
You can tie it in ascot style if it's thin enough. Or, just tie it in a single knot or loop. Be sure that the edges fall evenly if you choose this look. You don't need to tie it tightly to wear it around your neck. Just don't a gentle fold or loop.
If you have a full-length fur, it is still possible to wear it as a scarf! Simply wrap the ends around a few times and then tie them into a knot right at your hips or waist. This will serve as a belt that can be worn with many different outfits – just make sure the knot is not too tight so that you can still move freely.
If your fur is lighter in weight or has no fabric backing, then it could be worn as a wrap-around scarf! Simply wrap the ends around a few times and tie them into a knot at your waist.
How do I style my jeans with stoles?
A mink fur stole or sheared beaver is so elegant and can be worn over anything! Style your jeans with a mink fur stole for a cute day look. It works wonderfully for casual or chic dressing.
You can wear it casual style, as Grace Kelly did in Rear Window, by simply draping the baguette end diagonally across your chest and draping the other end over your shoulder. Or, drape it across your body and let it hang diagonally down in front of you.
Or, simply drape it around your neck and tie the two ends together. Be sure to leave one side longer than the other to add a touch of asymmetrical style. And, don't forget to tuck the ends inside your coat or let it show!
Remember, don't twist or tighten it too much or you may damage the fur. Don't pull when you are making a loop. You should be tying the loop loosely and not in a knot.

Wear a stole with a suit
Whether you're attending a fall wedding or just want to look stylish at work, an elegant fox fur stole is perfect for any formal occasion.
Style it with your outfit the same way you would style a scarf. For example, if you are wearing a tuxedo or power suit, drape the fur over one shoulder. Or, simply drape it over one shoulder and around your neck so that the ends hang in half from the front to back.
Wear it as a belted cape
If you want to wear your fur stole with jeans or casual pants, try wearing it as a belted cape. Simply drape the stole diagonally across your chest and then tie one side of the ends together just below your bust line. This look is very similar to wearing a poncho. If the belt feels too tight, you can untie it and adjust the length until it feels comfortable.
Wear it as a tunic over leggings
It's possible to dress down your fur stole with skinny pants or leggings! Simply drape your stole diagonally across your body and let one end hang down in front of you. Then, tuck the other end inside your pants or belt it around your waist.
Choose a stole that is longer than your torso and allows you to cross one end over the front of your body. This look will keep you warm and cozy on cold winter days! Long scarves are perfect for this look.
So, what are some other ways you pair a fur scarf or stole with your favorite outfits?
More articles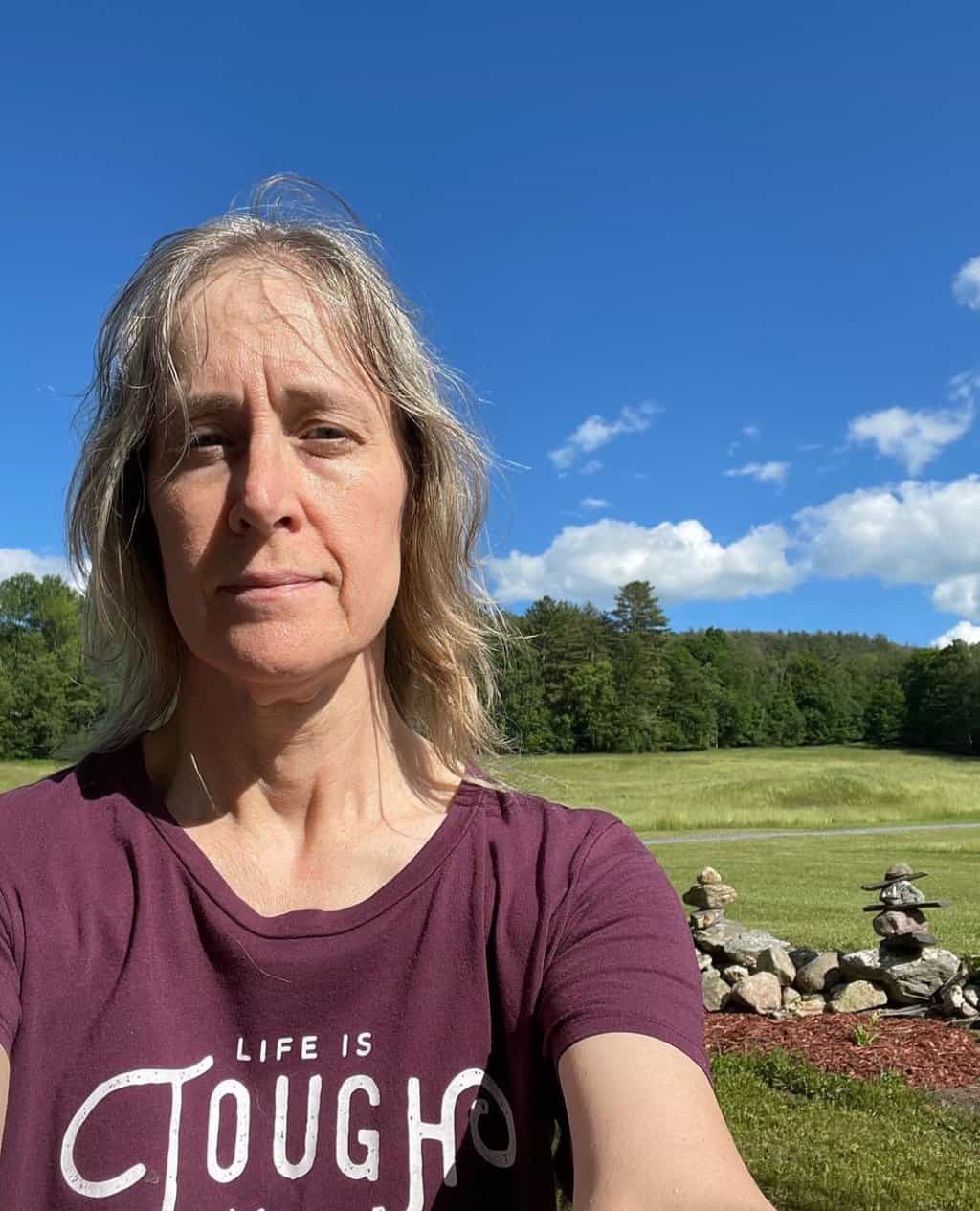 Ellen is a busy mom of a 24-year-old son and 29-year-old daughter. She owns six blogs and is addicted to social media. She believes you can feel beautiful at any age and any size. She shares healthy, realistic beauty and fashion information geared toward women over 40. If you'd like to work together, email info@the-socialites-closet.com to chat.