Last Updated on February 24, 2023 by Ellen Christian
Check out this easy herbal bath bomb that's made with chamomile and hibiscus! There's just something so relaxing about taking a long bath with your favorite herbal beauty products. Lately, I've been on a bath bomb kick. There's no better way to unwind!
Posts may be sponsored. This post contains affiliate links, which means I will make a commission at no extra cost to you should you click through and make a purchase. As an Amazon Associate I earn from qualifying purchases.
Herbal Bath Bomb
So, what's the point of bath bombs? Basically, bath bombs are hard-packed balls that contain different ingredients that are good for your skin or help soothe tired bodies. Rather than measure out and add each ingredient to your tub, you simply toss in a bath bomb as you fill the tub up with water.
What type of oil do you use for bath bombs?
Generally, people use coconut oil for bath bombs because it helps hold the dry ingredients together. If you don't add enough coconut oil, the bath bombs will crumble and not hold their shape when you remove them from the molds. This herbal bath bomb uses coconut oil.
Are bath bombs hard to make?
No, not really. Like any other beauty DIY, the important thing to remember is to follow the directions exactly. Substitutions or changes in quantity can result in a bath bomb that won't dry or that crumbles when you pick it up.
Are bath bombs good for your skin?
They definitely are! This is especially true if you use ingredients that are good for your skin like the ones used in this herbal bath bomb. Look for recipes that contain coconut oil and essential oils along with your favorite herbs.
Can you use any essential oil in bath bombs?
Yes, you can pretty much change out the essential oils for whatever your favorites are. So, this one uses hibiscus essential oil because it uses dried hibiscus. But, if you prefer, you could use lavender essential oil or even rose if that's your favorite scent. Check out these essential oils beginners should be using.
Can you get a yeast infection from bath bombs?
Yes, unfortunately. The fragrances and other ingredients can disrupt the pH balance. So, it's important that you limit the amount of time you spend soaking in a tub when you've used a bath bomb. There's no reason to give up bath bombs. Just don't use them every single day.
What do you use to scent bath bombs?
My preference when it comes to scent in bath bombs is using essential oil. They have holistic and aromatherapy benefits that fragrance or perfume oils just do not have. Plus, since they are plant-based rather than man-made, they are better for you in my opinion. This herbal bath bomb DIY uses essential oil. You can certainly use other types of oils, but be aware that they don't have the healing benefits that essential oils have. Just experiment until you find the ones that you like the most.
What essential oils are good for bath bombs?
Just about any essential oil will do depending on the reason you're using a bath bomb. If you want to relax, chamomile or lavender are great choices. If you want to wake up and get energized, any citrus essential oil will work. Or, if you're getting ready for a romantic date night, consider neroli or rose essential oils. Experiment to find out which essential oils are your favorite and keep those on hand. Then when you make an herbal bath bomb, you can have your favorites ready to use.
What makes bath bombs fizz?
These bath bombs won't fizz because they are made with powdered buttermilk rather than citric acid. The fizzing is a reaction that comes from the citric acid and the bicarbonate of soda (baking soda) hitting the water. If you want one that fizzes, check out these bath bombs instructions. Or check out my natural bath bombs with turmeric.
Ingredients list
If you want to make this herbal bath bomb recipe, you will need:
So, check out the printable herbal bath bomb recipe below. I hope you'll try it and let me know what you think!
Related Reading
Yield: 4
Herbal Bath Bomb With Chamomile and Hibiscus
Herbal Bath Bomb With Chamomile and Hibiscus
Total Time
2 hours
45 minutes
Materials
2 cups baking soda
1 cup powdered buttermilk
1.4 cup Epsom salts
1/3 cup coconut oil
1 tablespoon cocoa butter
2 tablespoons dried Hibiscus
2 tablespoons dried German Chamomile
1 teaspoon of hibiscus essential oil
Stainless steel bath bomb molds
Spray bottle filled with rubbing alcohol
1 large mixing bowl
Instructions
In a large mixing bowl, add the baking soda, buttermilk, and Epsom
salts. Whisk dry ingredients together.
Add the coconut oil. This binds all the ingredients together, so your bath
bombs don't crumble when you touch them! Add hibiscus essential oil and cocoa butter. Mix ingredients thoroughly. You may need to use your hands to break down any lumps and make sure everything is mixed in. The mixture is perfect when it holds together when you press it into your hands and feels like wet sand.
Mix in the dried hibiscus and German chamomile.
Fill both sides of the mold with the mixture, press molds together and grind to remove excess mixture. Gently tap each side of the mold to release the bombs.
Allow to dry a minimum of 24 hours. If your climate is wet or cold, allow an additional 24 hours. My rule of thumb is that when it is hard to the touch, they are ready for the tub! Store in an airtight container until ready for use.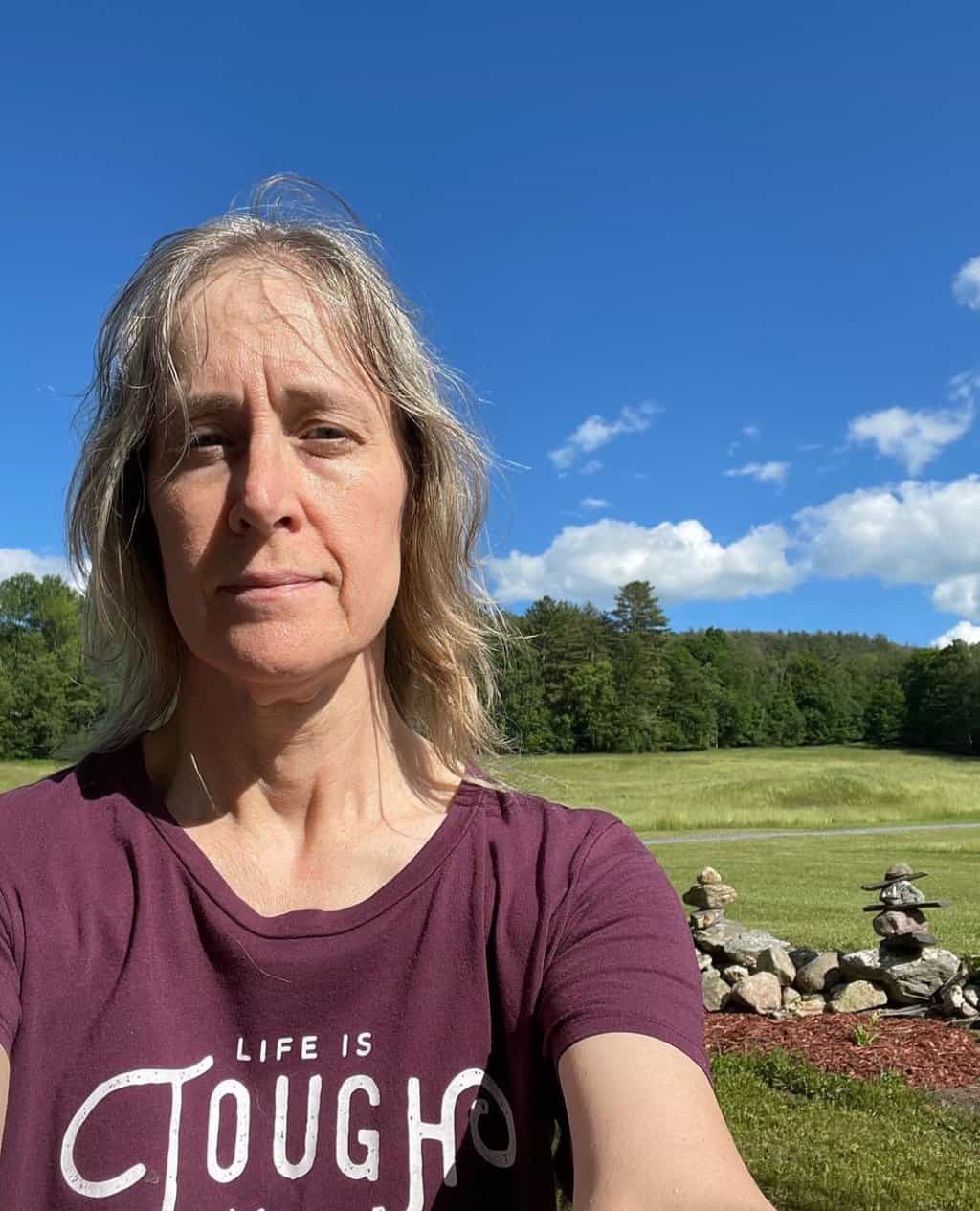 Ellen believes you can feel beautiful at any age and size. She shares healthy beauty and fashion information geared toward women over 40. She is a direct sales rep for several fashion and beauty businesses.