Last Updated on September 7, 2023 by Ellen Christian
Wondering what to wear over a sleeveless jumpsuit? Check out these jumpsuit outfit ideas for a few fashionable ways to wear a jumpsuit.
Posts may be sponsored. This post contains affiliate links, which means I will make a commission at no extra cost to you should you click through and make a purchase. As an Amazon Associate I earn from qualifying purchases.
What to Wear Over a Sleeveless Jumpsuit
Autumn is the perfect time to break out your sleeveless jumpsuit. It's still warm enough during the day to wear it.
And, it's easy to add a jacket or sweater in the evenings when it cools down.
Keep reading for some style tips that will help you maintain a stylish look for different occasions using sleeveless jumpsuits as your base layer.
With these styling options, you will find that you can wear sleeveless jumps for many occasions.
Find the right fit
Finding the right fit for a jumpsuit is essential in achieving an upscale yet comfortable style. The key is to ensure your jumpsuit is neither too tight nor too loose.
A well-fitted jumpsuit accentuates your figure without restricting your movement. Consider the cut and style of the jumpsuit, and remember that what looks good on a mannequin might not necessarily look the same on you. Your body type and personal comfort should always guide your choice.
When it comes to style tips, balance and elegance are integral. Pairing your sleeveless jumpsuit with a sophisticated blazer or chic leather jacket elevates the look, making it suitable for both day and night.
A well-chosen accessory such as a statement necklace or a bold handbag can add a touch of glamour. Remember, simplicity often brings out the most elegance, so don't overdo it with the accessories.
Keeping your look upscale doesn't mean it should be complicated. In fact, the more effortless your outfit appears, the more upscale it tends to look. A well-fitted jumpsuit is easy to style and versatile for various occasions, making it a staple in every woman's wardrobe.
Stick to neutral colors for a more refined look, and don't shy away from experimenting with different textures and layers. A well-chosen belt can emphasize your waist and enhance the overall silhouette. Remember, style is personal and should reflect your individuality.
Defining Your Waist
When it comes to wearing a sleeveless jumpsuit, the waist area is crucial in determining the overall aesthetic of your outfit. To emphasize your waist, consider incorporating a belt into your look.
Belts are not only functional but also add an element of detail and finesse to your ensemble. Opt for a vibrant, statement belt if you're looking to add a pop of color, or a sleek, subtle version for a more sophisticated appeal.
Make sure to cinch the belt at the narrowest part of your waist to give a flattering silhouette.
Upscale Styling Tips
Styling a jumpsuit in an upscale manner can be as simple as selecting the right accessories. Try pairing your sleeveless jumpsuit with a pair of high heels for a more refined, elongated look.
A pair of heels not only adds a touch of class but also helps accentuate your waist by improving your posture and the way you carry yourself. Additionally, pick a stylish handbag or clutch that complements your outfit.
Remember, upscale styling isn't about being overly extravagant, but about making elegant and thoughtful fashion choices.
Keep It Simple and Chic
While it's essential to accessorize and style your jumpsuit, it's equally important not to go overboard. A sleeveless jumpsuit is a statement piece in itself, and over-accessorizing might take away from its charm.
Stick to minimalistic jewelry such as delicate chains or stud earrings, and let the jumpsuit be the focal point. Similarly, when it comes to hair and makeup, opt for a simple, classy style.
A sleek ponytail or loose waves, paired with understated makeup, can enhance your overall look without distracting from your outfit. Remember, in the world of fashion, less is often more.
Wearing a jumpsuit and blazer
Pairing a sleeveless jumpsuit with a blazer is a classic style choice that adds an element of sophistication to your outfit. The combination is not only versatile but also perfect for transitional weather, taking you from the office to an evening dinner effortlessly.
When selecting a blazer, consider its material and color. A soft, structured blazer in a neutral color such as black, white, or navy complements a wide range of jumpsuits and is perfect for a more formal look.
To style this look, start by picking a blazer that contrasts with the color of your jumpsuit for an eye-catching look, or match it for a monochromatic and streamlined aesthetic. Learn how to style a plaid blazer for more ideas.
For instance, a white blazer paired with a black jumpsuit offers a timeless, chic style. Accessorize modestly with a dainty necklace or a pair of stud earrings to keep the focus on your outfit.
Complete the look with a pair of heels and a classy handbag, and you have a fashion-forward outfit that is sure to impress. Remember, the key to a stylish outfit is balance – aim for an ensemble that is both elegant and comfortable.
Wide leg jumpsuit and high heels
A wide-leg jumpsuit paired with high heels is a combination that exudes both class and comfort. The flowy silhouette of the jumpsuit, when juxtaposed with the sleekness of high heels, creates an elegant balance.
When choosing the right jumpsuit, opt for solid colors or subtle patterns, as they work best with the wide-leg style. The jumpsuit's cut should flatter your body type, focusing on comfortably fitting the bodice and letting the wide-leg shape flow naturally downwards.
As for the heels, stiletto pumps or strappy sandals work wonders in elongating your frame, enhancing the taller, leaner look that wide-leg jumpsuits offer. The key to accessorizing this outfit is to keep it simple.
A delicate pendant necklace, minimalistic bangles, or a chic clutch bag can perfectly complement your ensemble without overpowering it. Remember, when styling a wide-leg jumpsuit with high heels, the goal is to highlight the sophistication of the outfit and let the unique combination make its own statement.
This pairing is perfect for any occasion, from a business meeting to a night out, offering style and comfort in equal measure.
Start with solids
If you're new to the world of jumpsuits, starting with a solid color is an excellent first step. Solid colors are versatile and easy to style, making them great for beginners.
A single-color jumpsuit creates a streamlined look that can be both flattering and stylish. Choosing neutral shades like black, navy, or beige can make your outfit look timeless and chic, while bolder colors like red or emerald can add a striking touch to your look.
To style a solid color jumpsuit, consider the occasion and your personal style. For a casual day out, pair your jumpsuit with comfortable flats and a simple tote bag.
For a more polished look, you could add a belt to define your waist, wear high heels, and accessorize with delicate jewelry. Remember, the beauty of a solid color jumpsuit is in its simplicity, so avoid over-accessorizing.
Allow the jumpsuit to be the centrepiece of your ensemble, and you'll have a stunning outfit that's both simple and chic.
What do you wear over a dressy jumpsuit?
Adding a layer over a dressy jumpsuit can enhance your look while providing extra comfort in cooler temperatures. A popular choice is a stylish blazer, which can instantly elevate your outfit, giving it a professional, chic vibe.
Blazers in neutral colors like black, white, or beige work well with most jumpsuit colors and patterns, but feel free to experiment with bolder hues if it suits your style.
If you're going for a more relaxed, bohemian vibe, you can opt for a loose, flowing kimono or cardigan. These pieces add a touch of whimsy and intrigue to your ensemble, especially when they feature interesting textures or patterns.
Another great option is a classic leather jacket, which can lend a cool, edgy vibe to your dressy jumpsuit. Choose a fitted jacket for a sleek, modern look, or go for a slightly oversized style for a more casual, laid-back vibe.
In colder weather, you could even throw on a stylish long coat. Remember, whatever you choose to wear over your dressy jumpsuit, the key is to ensure it complements your outfit and fits well with the occasion.
Whether it's a sophisticated blazer for a business meeting or a trendy leather jacket for an evening out, the right outerwear can make all the difference.
What do you wear over a sleeveless summer jumpsuit?
Light Cardigan or Kimono
A light, breezy cardigan or kimono is an ideal layering piece over a sleeveless summer jumpsuit. It adds a touch of elegance and provides coverage without making you too warm. Choose a neutral or complementary color to your jumpsuit to keep the look cohesive.
Denim Jacket
A classic denim jacket is a versatile piece that pairs beautifully with a summer jumpsuit. It can add a casual yet stylish touch to your outfit, making it perfect for weekend outings or evening strolls. Opt for a light wash denim for a more summery feel.
Bolero Jacket
For a more formal or dressy look, a bolero jacket can be a great option. Its short, cropped style can elegantly highlight the waist of your jumpsuit. Stick to neutral colors or go bold with a vibrant hue that complements your jumpsuit.
Oversized Linen Shirt
An oversized linen shirt worn open can create a chic, relaxed look over a sleeveless summer jumpsuit. This is particularly effective with a strapless or spaghetti strap jumpsuit. The light linen material keeps the look cool and breathable.
Lightweight Scarf
For a touch of sophistication, drape a lightweight scarf around your shoulders. This can be a great way to add color and texture to your summer jumpsuit ensemble. Choose a scarf with a fun print or in a color that pops against the color of your jumpsuit.
How do you make a jumpsuit flattering?
Achieving a flattering look with a jumpsuit is all about embracing the design that suits your body shape and personal style. For instance, if you have a pear-shaped body, a jumpsuit with a fitted top and wide legs can balance your proportions beautifully.
On the other hand, an apple-shaped body can be flattered by a jumpsuit with a v-neck and a defined waistline. If you're petite, a well-fitted jumpsuit can elongate your figure, while plus-size individuals can opt for jumpsuits that cinch at the waist and flare at the hips for a balanced silhouette.
Moreover, accessorizing correctly can enhance the overall look of your jumpsuit. Use belts to define your waist or add layers with a chic jacket or a cardigan.
When it comes to footwear, heels can create an illusion of longer legs, especially with wide-leg jumpsuits. On the flip side, flat sandals or sneakers work well with fitted or cropped jumpsuits for a casual look.
Choose minimalistic jewelry to keep the focus on the jumpsuit. Finally, confidence is the key ingredient in making any outfit look flattering – so wear your jumpsuit with pride and poise.
How do you wear a jumpsuit if you have a belly?
Wearing a jumpsuit while having a belly is not a problem as long as you focus on finding a style that flatters your body type and makes you feel comfortable.
Opt for jumpsuits with a slightly loose waistline, which can gracefully drape over your belly without accentuating it. You might also consider jumpsuits with designs or patterns that draw the eye away from the belly area.
For example, a jumpsuit with a bold, vibrant print, or interesting details like a stylish collar or statement sleeves, can shift the focus towards these elements.
Another effective strategy is to use accessories strategically. Layering your jumpsuit with a long, open cardigan or a kimono can create vertical lines that elongate your figure and take attention away from your mid-section.
Similarly, a statement necklace or a pair of eye-catching earrings can draw attention towards your face. When it comes to footwear, a heel can help extend your silhouette, making you look taller and slimmer.
Remember, the key is to feel good in what you're wearing. Confidence can often be the most flattering accessory of all.
How do you style a boring jumpsuit?
Even a boring sleeveless jumpsuit can be transformed with the right accessories and styling. The first thing you can do is to add a belt to your jumpsuit.
Not only does this cinch in your waist and create a flattering silhouette, but it also adds an interesting element to your outfit. Choose a statement belt in a contrasting color or one with unique details like a flashy buckle or intricate designs.
Next, consider layering up. A stylish jacket or cardigan can give your jumpsuit a new lease of life. Go for a blazer for a formal look, a denim jacket for a more casual outfit, or a cardigan for a cozy, laid-back style.
Additionally, don't forget about jewelry. Statement necklaces, big hoop earrings, or a stack of bangles can really jazz up a simple jumpsuit. Pair your jumpsuit with some stylish shoes, like heels for a sophisticated look, or sneakers for a cool, relaxed vibe.
Finally, a trendy hat or a chic scarf can be the perfect finishing touch.
How do you wear a denim jumpsuit?
A good denim jumpsuit is a versatile piece that can be styled in various ways. For a casual look, pair your denim jumpsuit with simple sneakers or flat sandals.
Add a touch of personality with a colorful bandana tied around your neck or wrist. If your casual jumpsuit has a belt, you can replace the standard one with a statement belt to define your waist.
A cross-body bag and a pair of sunglasses would complete this relaxed, day-out look.
For a more dressed up style, wear heels or ankle boots. A sleek blazer thrown over the jumpsuit can instantly elevate your outfit, making it suitable for a night out or even a casual business meeting.
As for accessories, go for statement accessories or a delicate, long pendant necklace. A clutch bag would be the perfect addition for an evening look. Don't forget: confidence is the best accessory. Wear your denim jumpsuit with pride and you're sure to turn heads.
Tips for buying a jumpsuit
When shopping for a jumpsuit, it's essential to consider a few key points to ensure that you find the perfect one for you:
Find the Right Length: The length of the jumpsuit should be adequate for your height. A jumpsuit that's too short can make you look uncomfortable, and one that's too long can make your silhouette appear shorter and bulkier. Try on different lengths to find which one best suits your body type and height.
Pick One for Each Season: Jumpsuits are incredibly versatile, and you can find styles suitable for every season. A lightweight, short-sleeved jumpsuit can be perfect for summer, while a long-sleeved, heavier fabric jumpsuit can provide warmth in the winter. A 3/4 length jumpsuit can be ideal for both spring and fall.
Opt for Neutral Colors: While vibrant colors and patterns can be fun, a jumpsuit in a neutral color such as black, white, beige, or navy can be a staple in your wardrobe. These colors are timeless and can be easily paired with different accessories and shoes for various occasions.
Style Tips: Don't hesitate to experiment with different styles of jumpsuits. From strapless to halter neck, and from wide-leg to fitted, there are so many styles to try. Remember, the key is to choose a style that makes you feel confident and comfortable.
Try Before You Buy: Always try on a jumpsuit before purchasing. This will help you ensure that it fits well in all the right places, and that it complements your body shape. Look at yourself from different angles in the mirror to get a complete picture.
Remember, the perfect jumpsuit is one that makes you feel fantastic!
Related Reading
Contemporary kimono for summer
How to wear a belt with a dress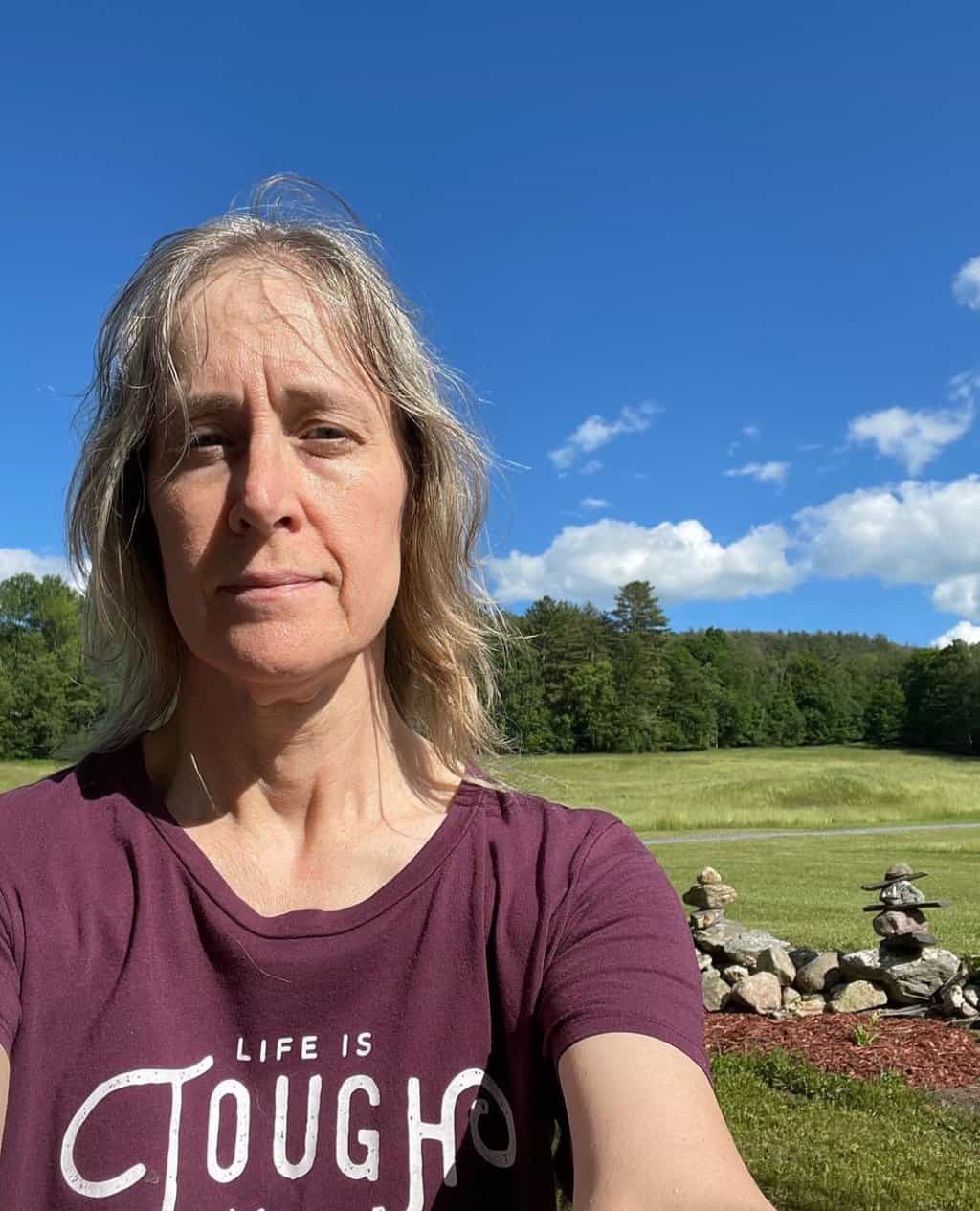 Ellen is a busy mom of a 24-year-old son and 29-year-old daughter. She owns six blogs and is addicted to social media. She believes you can feel beautiful at any age and any size. She shares healthy, realistic beauty and fashion information geared toward women over 40. If you'd like to work together, email info@the-socialites-closet.com to chat.