Last Updated on February 2, 2023 by Ellen Christian
Beauty is an endless journey. As times progress and as science evolves, we are given more options to take further steps along that journey. The most important step in any journey is the first, and the first step in this journey would be your skin! Redness, blotches, scars – we have so many things to deal with when it comes to our skin. Most commonly Rosacea.
Posts may be sponsored. This post contains affiliate links, which means I will make a commission at no extra cost to you should you click through and make a purchase. As an Amazon Associate I earn from qualifying purchases.
What Is Rosacea?
Rosacea (pronounced roh-ZAY-sha) is a common but poorly understood ailment of the facial skin that is estimated to affect well over 16 million Americans — and most of them don't know it. Statistically, while rosacea is becoming progressively widespread as the populous baby boom generation enters the most vulnerable ages, a National Rosacea Society survey found that 95 percent of rosacea patients had known little or nothing about its signs and symptoms prior to their diagnosis. Because of its red-faced, acne-like appearance, it can cause psychological and emotional effects if left untreated.
Symptoms & Treatments
The cause of rosacea is not known and at this time there is no cure, but today medical help is available that can control the signs and symptoms of this potentially life-disruptive disorder.
Signs to look for:
Redness on the cheeks, nose, chin or forehead.
Small visible blood vessels on the face.
Bumps or pimples on the face.
Watery or irritated eyes.
If you have skin that blushes easily (especially when touched), has noticeable red blood vessels and has a dash of black and whitehead-free pimples around your nose and cheek area, you may have rosacea. And figuring out how to get rid of rosacea isn't easy. That said, there are a few things you can do before seeing a dermatologist, in order to determine if your rosacea is severe enough to warrant a trip to the doctor's office. According to Cody Chanel, Beauty consultant at YESWELLNESS –Though rosacea is likely a congenital skin problem (exact root causes are still unknown), there are many lifestyle triggers that cause rosacea to flare. Things like extreme temperature changes, stress and even some of the foods you eat and beverages you drink can be accountable for making your rosacea more of a problem. One of the favourite solutions we recommend from personal experience is GLA Borage Oil. A product by Lorna Vanderhaeghe, author, nutritionist, biochemist and women's health educator.
GLA Borage Oil
Contains essential fatty acids, including omega-6s from plants (nuts or seeds) and omega-3 fish oils.
May ensure beautiful, smooth, glowing skin
Helps treat eczema, psoriasis, and dermatitis
Celadrin (Super rich skin therapy cream)
All natural, preservative, and paraben-free
Attempts to treat psoriasis, eczema, and rosacea
Moisturizes the skin
Find a mild cleanser
Use a liquid facial cleanser that contains sodium lauryl sulphate or disodium lauryl sulfosuccinate. Both ingredients will clean your skin gently and without any stimulation that might cause flushing. A soothing cleanser with antioxidants such as Pycnogenol and Green Tea will provide great benefits to your skin. You may want to try this Turmeric Soap Recipe with dandelions to help rosacea.
Soothing Oil Free Moisturizer
Use an oil-free, fragrance-free gel moisturizer that will help reduce the look of fine lines and wrinkles for soft, smooth skin without irritation. With anti-aging Pycnogenol®, a gentle yet potent antioxidant that is 50 times more powerful than Vitamin E in offsetting free radicals, this formula helps quench signs of aging while delivering soothing properties to help calm red, irritated or sensitive skin.
Vitamin K cream
Vitamin K's beneficial support of the circulatory system means that it can be helpful for a number of skin conditions
Helps any skin condition involving inflammation or irritation.
Treats symptoms of acne, eczema, psoriasis, rosacea.
Reduces dark circles under the eyes, spider veins, wrinkles.
Free of harmful chemicals.
Select cosmetics for sensitive skin
Since the substances used in most cosmetics will irritate rosacea-prone skin, use only cosmetics that are branded "for sensitive skin." Although not chemical-free, they usually have fewer, less-irritating chemicals than regular makeup.
Stay in the shade
Stay out of the sun, period. The sun may set off a flare-up, and no cover-up or sunscreen will prevent it.
When to See a Doctor
See your health care provider if:
Your nose and cheeks are persistently red.
You also have acne-like bumps on affected areas.
Sometimes it can be difficult to love the skin you're in and life is simply too short to spend another day at war with yourself, you are beautiful! You are unique and having Rosacea only adds to that unique beauty. My wish for all of you who can relate, is the next time you look in the mirror, say out loud "Hello beautiful" and start to learn to love the skin you're in!
You ARE beautiful!…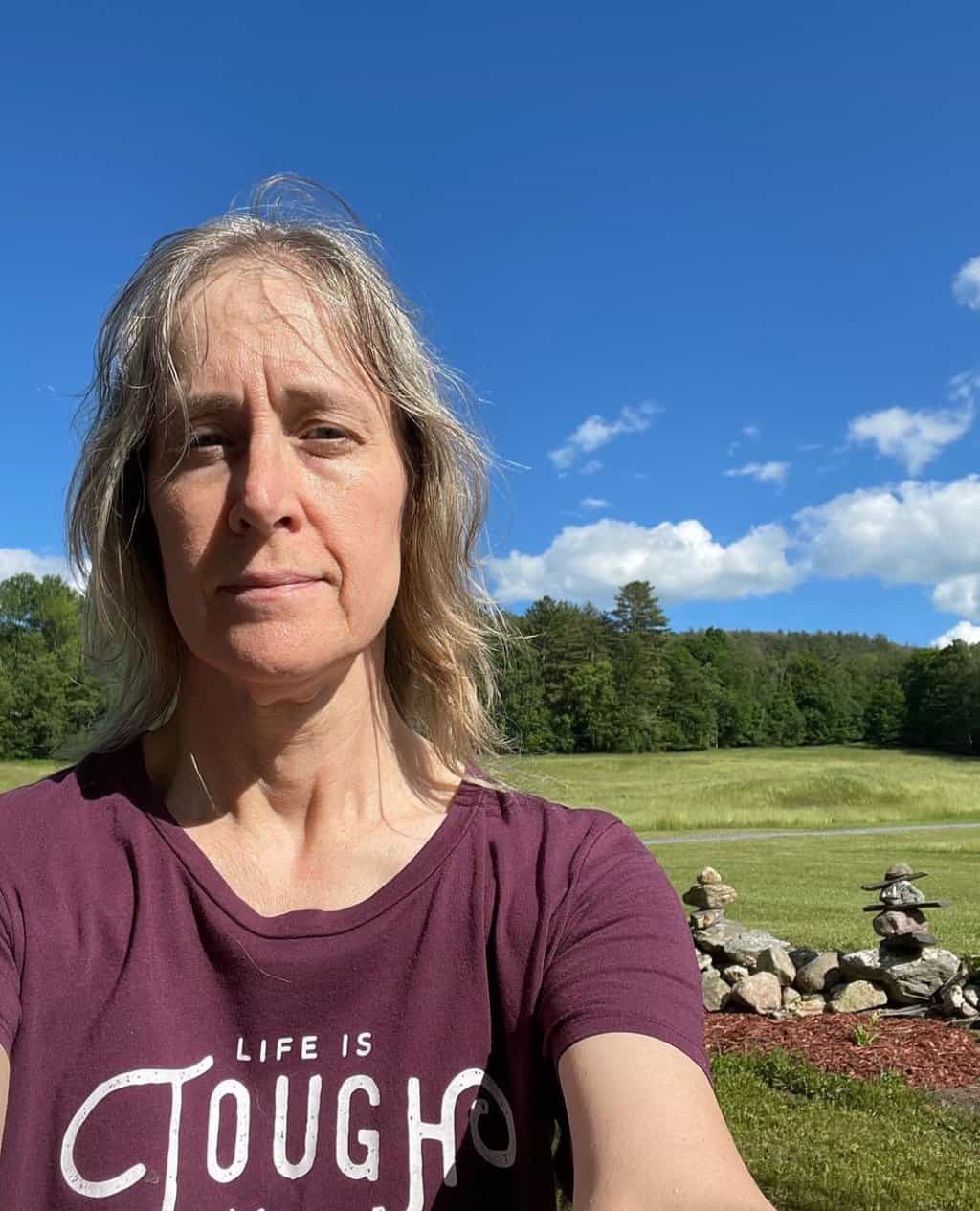 Ellen is a busy mom of a 24-year-old son and 29-year-old daughter. She owns six blogs and is addicted to social media. She believes you can feel beautiful at any age and any size. She shares healthy, realistic beauty and fashion information geared toward women over 40. If you'd like to work together, email info@the-socialites-closet.com to chat.