Last Updated on December 2, 2022 by Ellen Christian
Did you know you can make wool dryer balls that will help with wrinkles in your clothes? I absolutely hate ironing. In fact, I hate it so much that I refuse to wear things that need to be ironed. While that may not be possible for everyone, these simple natural wool dryer balls will help.
Posts may be sponsored. This post contains affiliate links, which means I will make a commission at no extra cost to you should you click through and make a purchase. As an Amazon Associate I earn from qualifying purchases.
Reduce Wrinkles in Your Clothes
Once you know how to make wool dryer balls, you can use them when you dry your clothes in place of fabric softener sheets. They will help separate the clothes when they dry. And, this will help to reduce the number of wrinkles you see when you remove the clothes from the dryer.
Can you make your own wool dryer balls?
Yes, you definitely can. While you can buy Woolsies from Amazon (they do get good reviews), it's really easy to make your own. And, once you know how to make them, you won't need to buy them anymore.
How do you make scented dryer balls?
One of the reasons that people use fabric softener sheets is that they love the smell of their clothes when they come out of the dryer. This easy DIY will show you how to make them. Then, just add a few drops of the essential oil of your choice.
Do wool dryer balls really reduce static?
They definitely do! The balls absorb moisture from your wet clothes in the dryer. And, this helps keep the moisture level higher which will help reduce static. Plus, they help reduce drying time because they keep your clothes separate. And, they help fluff your clothes and reduce wrinkles. It's a win, win.
What essential oil do you use?
You can really use any scent of essential oil that you like on your dryer balls. It all depends on what type of scents you like. My personal favorite is lavender because it's very relaxing. But, if you prefer, you can always use fir or even eucalyptus.
How long do wool dryer balls last?
It will really depend on how much laundry you use. They should last a few years provided you take care of it. Make sure to tuck any stray pieces of wool back inside the ball. And, allow it to dry completely between uses.
Wondering how to recharge wool dryer balls? You can recharge your dryer balls by washing them in hot water in the gentle cycle of your washer. Then, dry them on high heat to give them a fresh recharge. If you're wondering how often to recharge wool dryer balls, you should only have to do this occasionally. You'll know because they will not work as well. It really should last for thousands of loads. And, they work much better than those plastic ones.
How many wool dryer balls should I use?
The number of balls you use will depend on how large a load of laundry is. For a small load, you should use 2-4 dryer balls. Add more if you have a large load of laundry.
Can you use dryer sheets with wool laundry balls?
You should not use fabric softener or dryer sheets with laundry balls. The chemicals will adhere to the balls and they won't work properly. You should not need fabric softener or dryer sheets if you are using dryer balls.
Do dryer balls have to be 100% wool?
Yes, the dryer balls you make need to be all wool. If you don't start with 100% wool yarn, they won't felt properly. You can use either worsted or wool yarn. But, you need to check the label to make sure that it is not part acrylic.
Of course, the best way to save money on drying your clothes is to line dry them. But, they do come out wrinkled that way quite often. Why not try hanging things like your jeans. And, use these dryer balls on your shirts, skirts, and dresses when you toss them in the dryer. Or, check out these fabrics that don't need to be ironed. You could also learn how to use a handheld fabric steamer. That's much easier than ironing.

What you'll need:
Check out this easy DIY below and make some for yourself. You'll be surprised at how easy it is.
Related reading
Yield: 5
Make Wool Dryer Balls to Reduce Wrinkles in Your Clothes
Learn how to make these homemade dryer balls to help reduce wrinkles in your clothes.
Additional Time
30 minutes
Total Time
1 hour
15 minutes
Materials
• 2-3 skeins of worsted or 100% wool (Either one will work, but the worsted wool felts better than the 100% wool. Be sure to look at the wrapper around the yearn to be sure it is 100% wool and not part wool and part acrylic as this will not felt)
• 1 medium size crochet needle
• Scissors
• 1 pair of pantyhose
• Twine
Instructions
Find your beginning piece of yarn and wrap around your fingers 10-15 times.
Slip the yarn from your fingers and pinch it closed. Wrap your yarn around the middle about 10 times.
This small ball is the beginning of your dryer ball. Keep wrapping your yarn around your little ball, going in different directions as you wrap, until it is about the size of a baseball.
When you get your yarn ball to the size you want, cut the yarn and using your crochet needle, push the end of the yarn into one end of the ball.
Cut the leg off your pantyhose and tie a knot in the foot of the hose. Push one of your yarn balls into the hose and tie a knot. Repeat. You should be able to get 4-5 balls into one leg. Tie the open end into a knot.
Place your pantyhose into the washing machine on hot water. After the washing cycle ends, add the pantyhose to the dryer on hot. This is where your dryer balls will become felted. This process fuses the yarn together until it becomes more solid in appearance. Add a few towels to keep the noise of the bumping balls down. Add to the dryer to soften clothes. If you like, you can add a few drops of your favorite essential oil.
Recommended Products
As an Amazon Associate and member of other affiliate programs, I earn from qualifying purchases.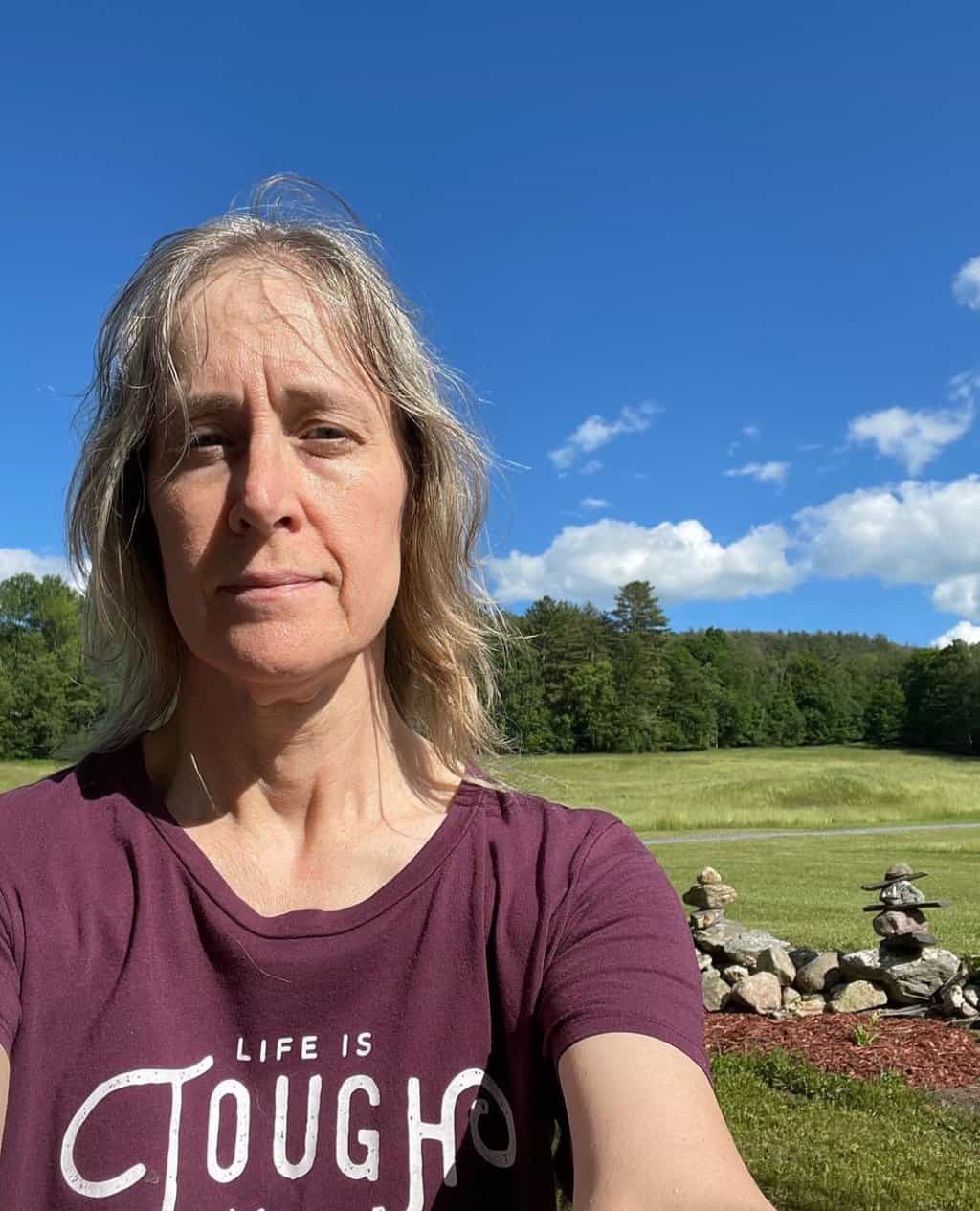 Ellen is a busy mom of a 24-year-old son and 29-year-old daughter. She owns six blogs and is addicted to social media. She believes you can feel beautiful at any age and any size. She shares healthy, realistic beauty and fashion information geared toward women over 40. If you'd like to work together, email info@the-socialites-closet.com to chat.