Last Updated on April 13, 2023 by Ellen Christian
Do you know how to get full coverage without caking? Check out these tips for making your makeup look natural while covering blemishes.
Posts may be sponsored. This post contains affiliate links, which means I will make a commission at no extra cost to you should you click through and make a purchase. As an Amazon Associate I earn from qualifying purchases.
How to Get Full Coverage Without Caking
Have you ever applied your makeup and tried to cover imperfections and ended up with patchy caked on makeup? I have and at that point, all you can do is start over and hope for better results.
Last year, I shared my tips for using an airbrush system with you after having a chance to try the Luminess Air Airbrush Makeup System. Now that I've had an opportunity to try a few of their new products for the Luminess Air, I wanted to share these extra tips with you.
Use less makeup to avoid caking
When using traditional makeup, the more coverage you want, the more product you need to use. That's what results in caking and leaves you with an artificial, painted on appearance.
I prefer the natural look which is why an airbrush system works so well. One of the benefits of using an airbrush system is that you will receive better coverage using less makeup.
Luminess Air
To avoid caking, try these products with your Luminess Air Airbrush Makeup System (before foundation – applied to a clean face):
Luminess Porcelain – Prime for Flawless Skin – This skin primer helps with balancing skin's texture and tone for a smoother, longer lasting, nourished and even makeup look. Porcelain is a water-based, colorless primer formulated for all skin types. OIL –FREE; perfect for everyday use.
Luminess Air – X Out – Say Bye Bye to those dark circles and tired eyes with ultra-hydrating X Out. This concealer creates a soft-focus effect, illuminating eye area while reducing the appearance of fine lines and wrinkles for a natural, flawless look. Apply before foundation, by lightly spraying under the eye area; blend with fingertips as necessary.
Luminess Air – Eraser – One of Luminess' newest essential products; Eraser instantly erases large pores, redness, blotchy skin, and helps to even out skin tone. Specially formulated for coverage that is lightweight with no cakey buildup allowing you to use less foundation to achieve a full coverage, flawless look. Luminess Eraser is water based and Oil-free; perfect for everyday use.
Once you've used these products, you will follow with the Luminess Air foundation, blush and eye products. Because the Luminess Air applies product very lightly, you won't experience caking even when you layer multiple products.
Take advantage of the special sale and save 20% using code: 262747204.
Believe it or not, in this photograph I am wearing the Prime, X Out, Eraser, Foundation 2 and the Tulip Blush. The results look natural while still providing excellent coverage. (Excuse the weird hair, the wind just would not stop blowing.)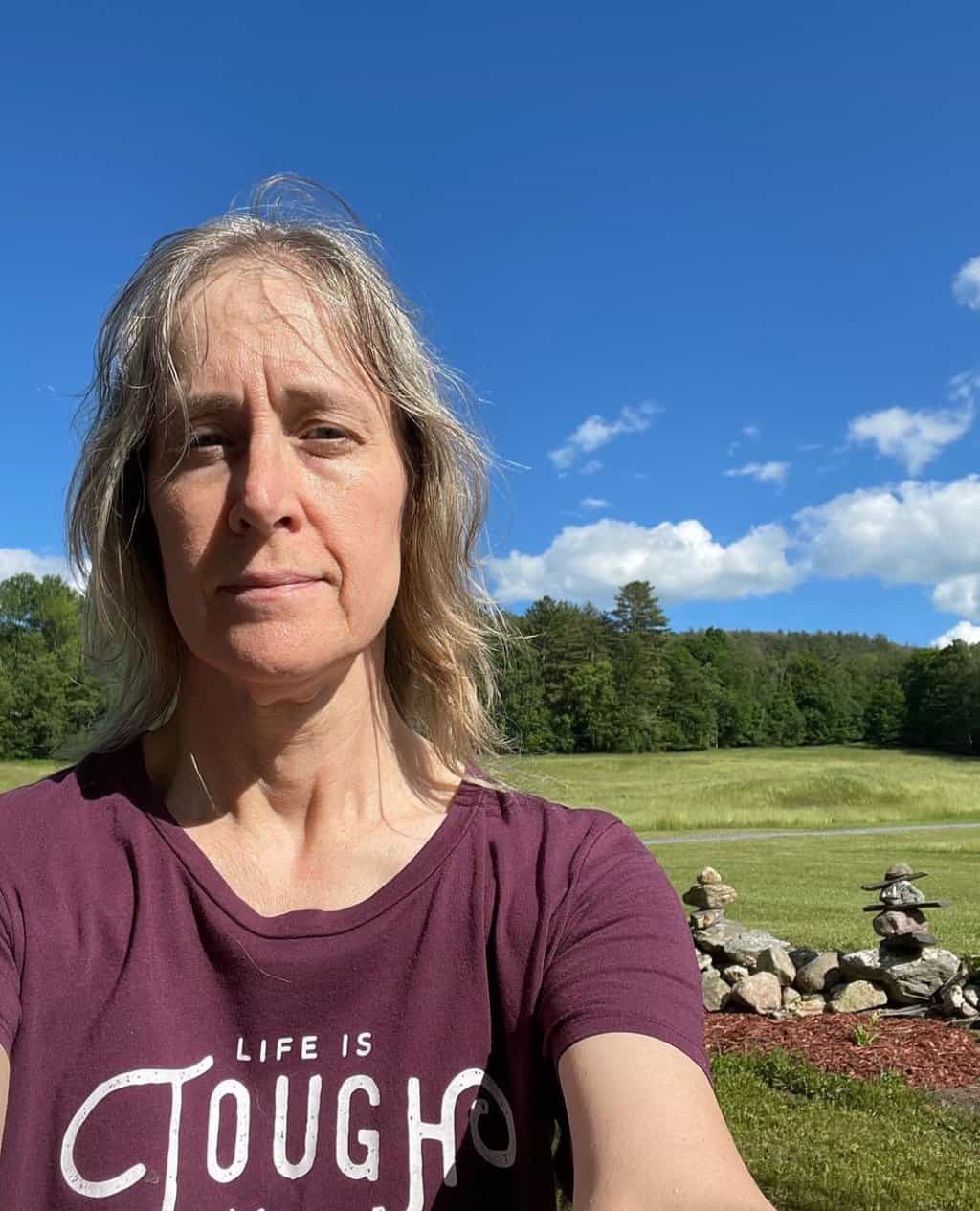 Ellen believes you can feel beautiful at any age and size. She shares healthy beauty and fashion information geared toward women over 40. She is a direct sales rep for several fashion and beauty businesses.