Last Updated on June 12, 2023 by Ellen Christian
Tarabusi Creek sells handmade vegan soap including alkanet soap which is ideal for those with irritated bumpy skin. Try their handmade bath and beauty products today.
Posts may be sponsored. This post contains affiliate links, which means I will make a commission at no extra cost to you should you click through and make a purchase. As an Amazon Associate I earn from qualifying purchases.
Tarabusi Creek Handmade Vegan Soap
If you love cold process soap, I recommend you look at the variety of wholesome homemade bath and beauty products at Tarabusi Creek.
Stephanie creates handmade vegan soap that is gentle on the skin. She offers several different types of soap made with essential oils including Cherry Bomb Handmade Soap made with alkanet root powder.
Benefits of alkanet root soap for bumpy skin
Alkanet root powder is used in the making of handmade vegan soap and provides many benefits to irritated and bumpy skin. Alkanet root contains anti-inflammatory properties, which can help soothe redness and irritation from the skin.
Additionally, alkanet root has astringent properties that help tighten pores reducing the size of pores and helping control oily skin.
Alkanet root powder is also used to give handmade soap a lovely purple color.
Is alkanet root powder natural?
Alkanet root is a natural herb grown in the Mediterranean region. Alkanet root powder has been used for centuries as a medicinal herb as well as a dye for fabrics and cosmetics.
How to use alkanet soap
You can use alkanet handmade soap just like any other bar of soap. Wet your hands and lather up with the soap. Rinse off with warm water and pat dry your hands.
You can also use alkanet handmade soap on the body for a luxurious bathing experience. Wet your body, lather up with the soap, rinse off and pat dry your skin.
What is cold process soap?
I've shared several melt-and-pour soap recipes here. But, I don't make this type of soap. Cold process is a type of soap-making method. In the cold process method, lye and oils are mixed to create the bar of soap. This process takes several weeks for it to cure until you have a hard bar that is safe for use.
Tarabusi Creek uses the cold process method to make all its handmade vegan soaps. This type of soap lasts longer and provides many benefits for your skin.
Cherry Bomb Handmade Soap
All of the soaps from Tarabusi Creek are made with the finest plant-based oils and butters. The Cherry Bomb Handmade Soap uses alkanet root which gives it a purple color. It also makes this bar exfoliating which helps keep your skin smooth and healthy.
It's both cooling and anti-inflammatory from the alkanet root powder properties. The scent of cherries, amaretto cookies, and iced vanilla make it the perfect soap for a yummy bathing experience.
Of course, you can use alkanet root in many types of handmade vegan soaps including lavender soap. The purple color is unique and alkanet is frequently used to create purple naturally.
If you're looking for natural, handmade vegan soap, then Tarabusi Creek is the perfect destination. Check out their selection of alkanet root powder soaps today! You won't be disappointed in the quality and results of these amazing products.
Tarabusi Creek soap varieties
Tarabusi Creek soaps are perfect for anyone looking to take care of their skin with natural plant-based ingredients. Whether you have sensitive, dry, or bumpy skin, they've got something that will help nourish and protect your skin.
Here are a few more varieties in addition to their soap that uses alkanet root.
Snowmint Handmade Soap
Peppermint, eucalyptus, and lavender combine to create a cleansing, calming, and soothing bar soap. This soap is soothing for all types of skin and makes your morning bathing ritual complete.
Lemondrop Handmade Soap
Lemon essential oil and exfoliating poppy seeds make this the best soap for those with pimples and acne. Lemon oil has antibacterial properties that may help a range of conditions.
Cedar Trail Soap Bar
The woodsy scent of cedarwood essential oil makes this soap warm and comforting. The natural green color comes from dark green spirulina.
Breakfast Soap Bar
Oats and almond milk combine to form the base of this skin soothing handmade vegan soap. Oatmeal has many benefits in your beauty routine. I suggest this soap if you have large pores or a skin condition like eczema.
Toasted Handmade Soap
This soap is created with pumpkin puree and scented in pumpkin chai. Pumpkin is high in Vitamin C and beta carotene so be sure to try it if you have aging skin. You will appreciate the boost in collagen.
If you prefer to try their handmade soap without scents, they offer a nake soap bar that is ideal for those with very sensitive skin.
Give Tarabusi Creek handmade vegan soap a try and you won't be disappointed. Your skin will thank you for it!
Order Tarabusi Creek handmade vegan soap today to start nourishing your skin with natural plant-based ingredients. Stephanie makes each batch of soap with the utmost care so that every bar is perfect. Enjoy the benefits of alkanet root and other natural ingredients in Tarabusi Creek soap bars today.
Where to find her alkanet soap
You can find her handmade vegan soap on her website.
Related Reading
You may also enjoy these: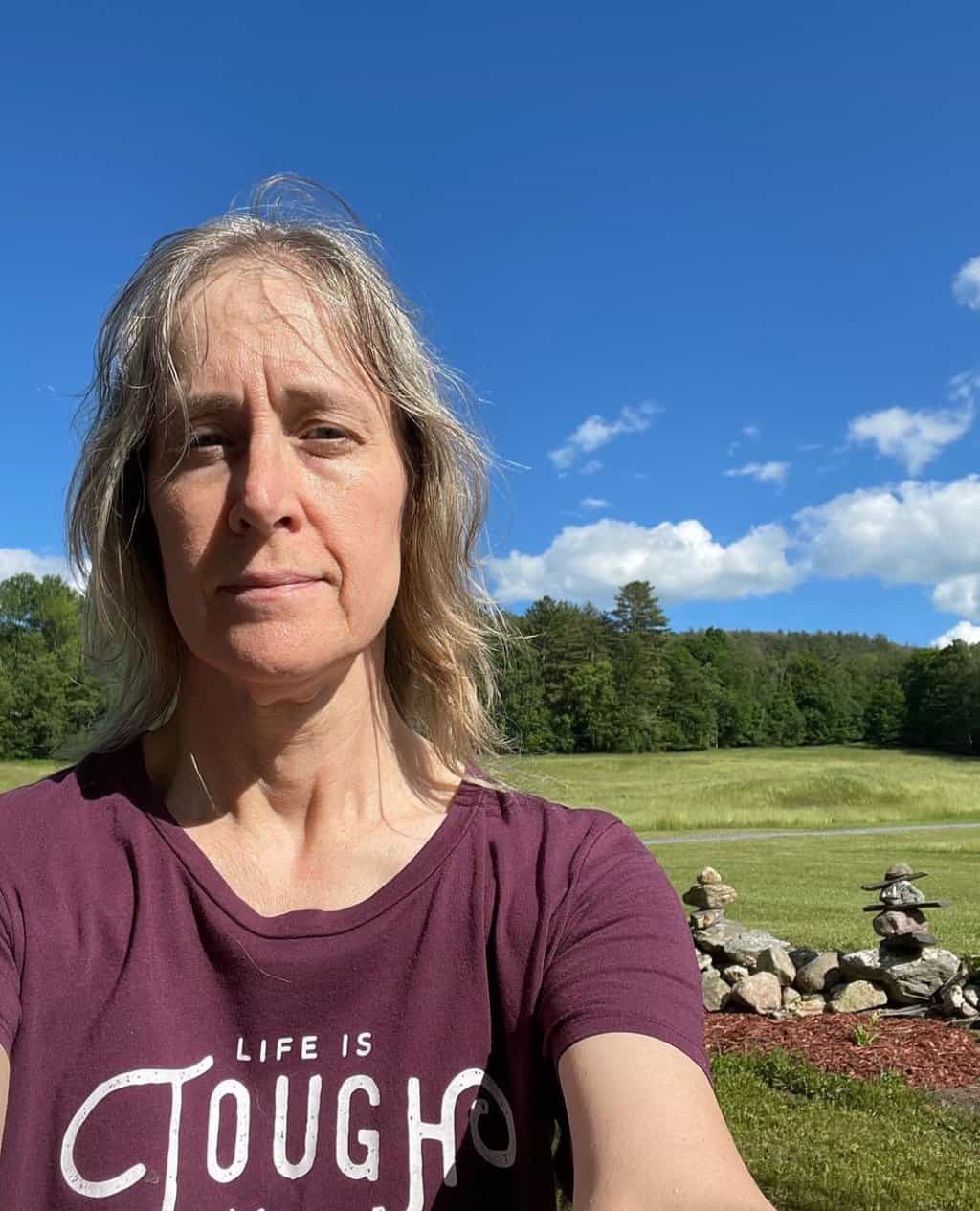 Ellen is a busy mom of a 24-year-old son and 29-year-old daughter. She owns six blogs and is addicted to social media. She believes you can feel beautiful at any age and any size. She shares healthy, realistic beauty and fashion information geared toward women over 40. If you'd like to work together, email info@the-socialites-closet.com to chat.