Last Updated on April 8, 2023 by Ellen Christian
I love nail art. I could spend hours wandering through Pinterest looking for easy Valentine's nails that I could do. Check out this simple Valentine nail art idea.
Posts may be sponsored. This post contains affiliate links, which means I will make a commission at no extra cost to you should you click through and make a purchase. As an Amazon Associate I earn from qualifying purchases.
Easy Valentine Nails | Pink Nail Art
I know better than to try anything too complicated. As gorgeous as polka dot nails or nails with tiny flowers painted on them look, I just don't have the skill or the patience to do that.
I decided to play around with some pink nail art that was easy for Valentine's Day. While I did it with Valentine's Day in mind, really you could do it any day that you're in the mood to have fun pink nails. It's easy enough that anyone can do it – trust me.
How to make Valentine nail art
Always start with clean, polish-free nails that have been neatly filed.
I add a base coat which helps the polish wear longer. I really like Orly Rubberized Basecoat because I think it wears really well.
After that, paint your entire nail one color. This may take 2 coats. Be VERY certain they dry completely between each coat and that your final coat is completely dry before you proceed to the next step. I like to wait at least an hour but it really depends on your polish. I used Clinique Hi Sweetie as the pink color. Both the colors I used for these easy Valentine nails came from the Clinique Party Lips and Nails Gift Set I bought at Macy's.
You can use any of these pink nail polish colors.
Making stripes on your nails
After that, you need to cut very thin strips of blue painter's tape to make the lines on your nails. If you have that fancy nail tape, you can use that instead but blue painter's tape works great for me. Line the tape up carefully to have a thin space in between where you'll paint a line of purple polish.
Very carefully paint the area in between the painter's tape in a different color. I chose Clinique Hot Date as the purple.
Remove the blue painter's tape while the polish is still wet and then let it dry completely.
Apply a clear top coat and let it dry completely.
Add a glitter spot or polka dot or nail sticker to one half of the nail. I used stickable jewels from the craft store. You can use nail stickers or do it free hand if you're good enough to do that.
Enjoy! You're all set for romance with these easy Valentine nails!
If you're looking for other ideas to make your Valentine's Day a little bit more special, I'm sharing a few ideas from my favorite bloggers.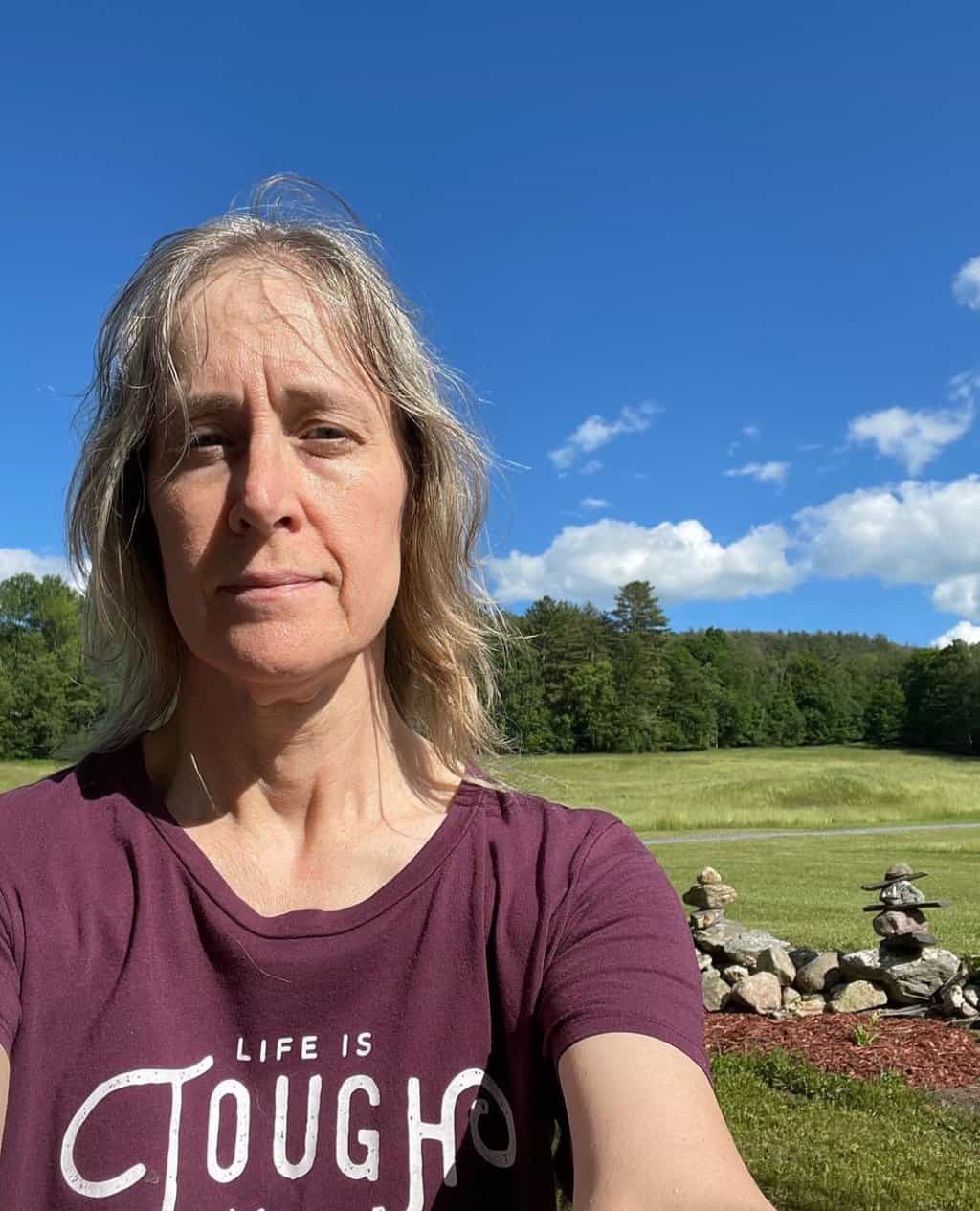 Ellen believes you can feel beautiful at any age and size. She shares healthy beauty and fashion information geared toward women over 40. She is a direct sales rep for several fashion and beauty businesses.